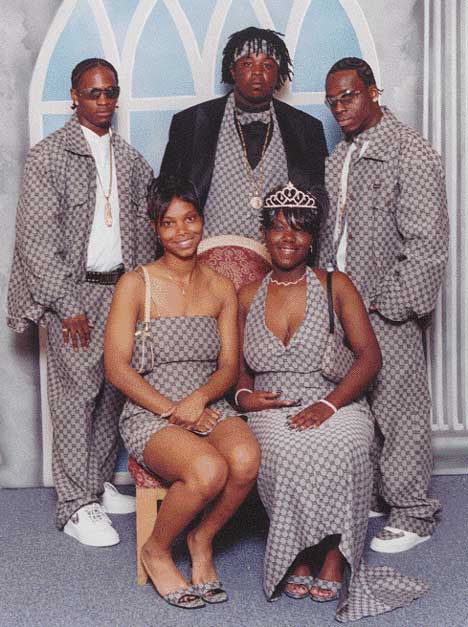 Colorful weave. Long, acrylic nails. Gold teeth. Colorful cars with spinning rims. Designs cut into a haircut. Dilapidated houses. Dirty streets. High crime. Poor people. Over-crowded neighborhoods. When you look at everything I've listed, what words come to mind? When I asked a friend of mine about phrases similar to the ones I've listed, he instantly said that those terms are associated with being GHETTO, HOOD and/or RATCHET. Some might say those descriptions are what we'd associate with someone who is black or African-American, but why?
When I was a child, I used to like being called Ghetto, because it gave me a sense of pride about where I grew up and the people I grew up with. However, after to coming to college and meeting different people and learning new things I realized that referring to oneself as Ghetto, Hood or Ratchet wasn't something to be proud of. It is not the actions and the appearance of the people who have the weaves or the rims that bother me; it is the terms that others use to describe my people that I'm against.
People who have never lived in the neighborhoods that I come from and who have never experienced the closeness of my community make the word "Ghetto" a derogatory term. The reason I know this is because I've associated with people who come from all over and their understanding of where I come from is negative and so they call it ghetto – meaning it's dirty, the people are poor and ignorant; but that's not always the case and it hasn't always been that way.
The word Ghetto is originally an Italian term and it was used to describe the neighborhoods that the Jewish citizens of Venice resided in. Although these communities were packed with people, it did not mean that the people were dirty and ignorant; it meant that they were a minority in a place where the majority didn't want them. So they were forced to stay together in an area that eventually became overwhelmed with all the residents and to outsiders this isn't safe or sanitary.
Ghetto was also used when describing the communities that the Jewish people were sent to, by the Nazis, just before they were to be hauled off to the concentration camps. I imagine that the people of the United States must have heard this term during that time and applied it to the communities that the European immigrants were settling in, because the term eventually came to describe communities of immigrants in America. However, the black migration took place (where African-Americans migrated from the South to the North), they moved into the neighborhoods of the immigrants or started their own neighborhoods, which then prompted white people to move to the suburbs and well to do black people to move as well. So in a sense, the term Ghetto was made derogatory by blacks and whites.
Why do I have a problem with this, although I know what it means to me and my community? I have a problem with it because Ghetto is not what should describe the way my people dress, act or how they live. I would like to say that it is our culture, it is who we are, but it is not Ghetto. To me, no matter how others might try to make that word a positive term, it can never be positive in my eyes because I know it's origin; Jewish slums before concentration camps or immigrant cities where human beings lived because the larger world wasn't welcoming of them.
I want the world to know that my people aren't GHETTO, what you see us wear and how we choose to live and associate with each other is only a representation of our culture, which isn't negative. I like to think that we are a proud people and we are not outsiders, in fact, we help to make this world go round. So the next time you hear someone describe a black person as ghetto, try correcting them and letting them know that our way of life may be different from theirs, but it doesn't make us an inferior group; we're just unique.